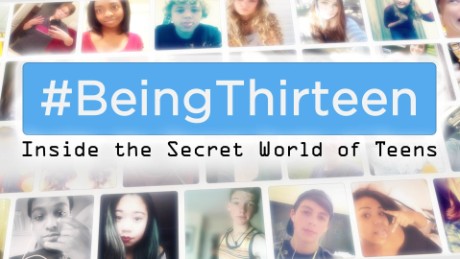 (Image courtesy of https://www.cnn.com.)
Monday night I watched a short part of the CNN documentary "#Being13: Inside the Secret World of Teens." The one hour special report documented 200 thirteen year olds from around the United States, compiling their social media data into a database over the course of six months. The students, their parents, and their schools all gave permission to CNN in order to participate in the study. Some of the students were from large cities while some were from small towns. The results of the study were both shocking and cause for concern.
Iconic Symbols
From left to right:Twitter, Instagram, Google Plus, Facebook, Twitter, YouTube, "like" button.
(Image courtesy of https://www.bloomgroup.com.)
Types of Social Media:
Facebook - A site allowing individuals to create a web page designated to sharing their lives with their "friends" (other individuals who are allowed to look at their web page). Pictures, comments, and even games are shared over the social media, powerhouse site.
Snapchat - This program allows photos to be shared with others. Think of it like text messaging, except pictures are sent and received instead of only words.
Twitter - A program allowing users to "follow" other users in order to be updated about happenings in their life using text. It is a real-time look into the feelings of individuals.
Instagram - A site allowing users to post pictures and share them with other users. A very popular site among teenagers today because of the visual stimuli created.
First of all, the study found that anxiety disorders and stress levels among teenagers were incredibly high today. Psychologists believed this is due to the amount of times teens check their social media. Many teens reported to refreshing their social media sites over 100 times per day. The reason? 61% said they wanted to see if their posts, pictures, or statuses were being "liked." (Note: When a post is found to be of interest to another user, that user can indicate they "like" the post. Likes are then tallied up so the poster can see if they posted something people like or not.)
It is common, the report said, for teenagers to take 150 pictures of themselves ("selfies") to get just one picture worthy enough to post online. I had one teenage girl share with me once that if her pictures did not get 100 likes, she removed it since it revealed to her that she didn't do a good enough job, leaving her feeling undesirable.
Researchers also discovered that many teenagers do not have the social skills needed to have real-life conversations, especially when it comes to sharing personal feelings with other people. One particular girl on the program said she was afraid of having confrontations with other people, leading her to post her feelings on social media instead, hiding behind the safety of the device instead of dealing with people's emotions in person. "They might get mad at me or start getting all emotional," she said (paraphrase). "It's scary because I don't know how to handle that."
I admire the girl's honesty, but this is a sad problem teenagers face today.
So... what's the problem?
In short, social media is all about one person: the individual user.
Selfishness can take many different forms. From checking your own personal, social media account hundreds of times a day, to not wanting to deal with someone else's emotions, selfishness is ever present in the world of social media.
As a high school teacher at a school where cell phones are allowed in school and in class, I see firsthand the overwhelming number of teenagers who struggle with selfishness in the form of social media on their cell phones. Humans didn't need another medium in which to show selfishness; Adam and Eve did a great job of being selfish before they even were wearing clothes.
When absolute truth is removed from society and is replaced with relativism, we get what we have today: a generation of anxious, tormented teenagers addicted to self, taken captive by the powers of sin.
Today in the world... today in America... today in your family...
who is holding onto the absolutes of truth?
In the days of the Judges in Israel, there was no king, but "everyone did what was right in his own eyes" (Judges 17:6).
Today, in your own home, who is declaring what is right and what is wrong? Who is teaching your children what is right and what is wrong? If you leave it up to the schools, to the babysitter, to the world around them - your children will
never
know the truth.
2 Timothy 2:2 says, "And what you (Timothy) have heard from me (Paul) in the presence of many witnesses, commit to faithful men who will be able to teach others also." The world does not have the knowledge of what is right and what is wrong, of what is good and what is bad. This knowledge comes only from the Holy Spirit and those He indwells.
2 Timothy 3:1-5 says, "But know this: difficult times will come in the last days. For people will be lovers of self, lovers of money, boastful, proud, blasphemers, disobedient to parents, ungrateful, unholy, unloving, irreconcilable, slanderers, without self-control, brutal, without love for what is good, traitors, reckless, conceited, lovers of pleasure rather than lovers of God, holding to the form of godliness but denying its power." Avoid these people!"
My friend, Paul wrote those words to Timothy nearly 2,000 years ago. The last days of evil have always been upon us. Today, however, the manifestations and devices of evil have taken a different form.
Brothers and sisters, please take back what is God's: The truth! Take it back by studying His Word, teaching His Word, and living His Word.
I pray you find strength for the journey.
"Be on your guard; stand firm in the faith; be courageous; be strong" (I Corinthians 16:13).