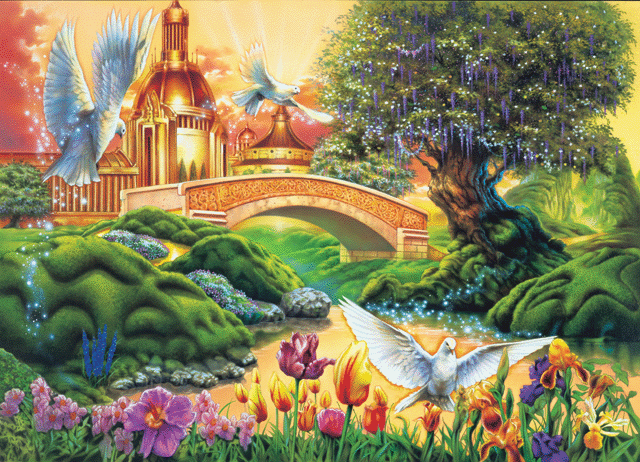 (Image courtesy of http://www.raebear.net.)
"Then the angel showed me the river of the water of life, bright as crystal, flowing from the throne of God and of the Lamb through the middle of the street of the city; also, on either side of the river, the tree of life with its twelve kinds of fruit, yielding its fruit each month.  The leaves of the tree were for the healing of the nations.  No longer will there be anything accursed, but the throne of God and of the Lamb will be in it, and His servants will worship Him.  They will see His face, and His Name will be on their foreheads.  And night will be no more.  They will need no light of lamp or sun, for the Lord God will be their light, and they will reign forever and ever" (Revelation 22:1-5).
John, in the book of John, begins his gospel record in identical fashion to Genesis: "In the beginning...."  Furthermore, John's final revelation of Heaven sounds very similar to the first book of Genesis: a garden similar to Eden is described in the final chapter of the book of Revelation, where there is found the Tree of Life, a River of Life, Light, and God Himself, living with and reigning over His people.
But what is the connection between the two?